WE'LL CARRY YOUR LOAD
South Africa's trusted supplier of new plastic pallets, crowd safety barriers, containers and foldable crates
Since 1995
Safe and Hygienic
The food industry has recently called for higher food safety standards. Changing to plastic pallets is one step in the right direction.
FRIED Plastic Pallets (Fii 716 CC), South Africa's trusted supplier of plastic pallets since 1995, has a variety of  quality plastic pallets suitable for all industries. The FRIED business model consists not only of importing and supplying new plastic pallets, but also locally manufactured plastic pallets.
Technologically advanced & safe
FRIED plastic pallets can endure extreme temperature variances without compromising its integrity and durability. FRIED plastic pallets are durable, re-usable and easy to clean (at up to 90°C using high-pressure cleaning). FRIED plastic pallets are put through stringent testing and lengthy trials to ensure a high-quality, weight-bearing performance.  FRIED plastic pallets do not contain screws that can be harmful to the surface on which it is used or to anyone using the pallets.
Eco-friendly: Recycled and recyclable
FRIED plastic pallets come in different materials, namely Virgin plastic(s), Recycled HDPE (High-density Polyethylene), PP (Polypropylene), PE (Polyethylene), PO (Polyolefin, recycled). FRIED plastic pallets can be recycled after its useful lifespan.
Be Economically Savvy – Buy Sustainable
High quality equals longevity.  The price of plastic pallets is in most cases higher than the price of wooden pallets,  however, plastic pallets are likely to last up to 10 years of multiple trips.  Over time an investment in plastic pallets can save you money.
Perfect for exporting
FRIED plastic pallets comply with legislation and no kiln dry or methyl bromide is used. Plastic does not have splinters, mould or pest infestations.
See our FRIED-Hyg-i7.1 pallet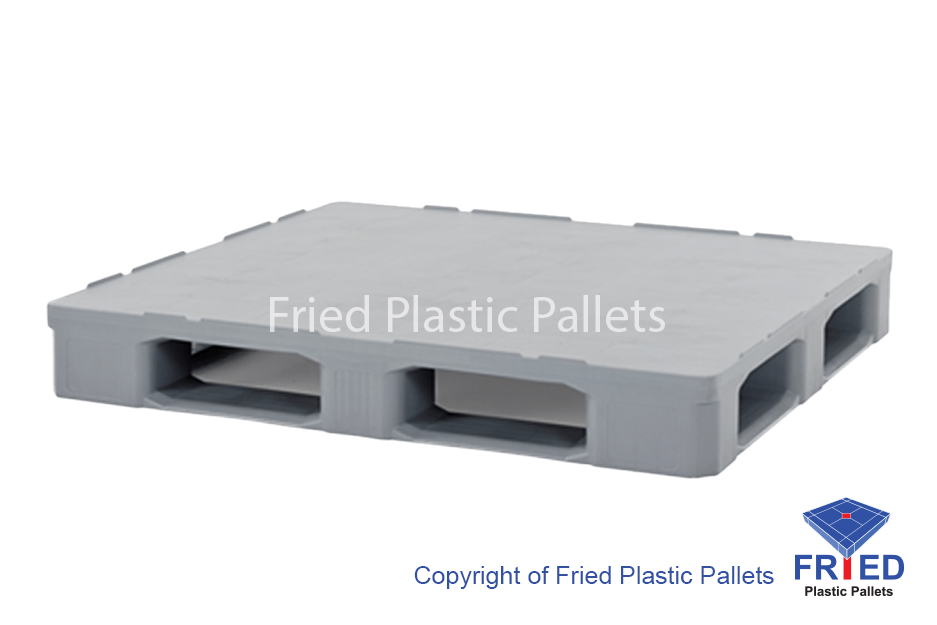 HDPE plastic, Hygienic and clean
Smooth surface, easy to clean
Standard size (1.2m x 1m)
Weight bearing capacity:

Static 5 Tons, Dynamic 2.5 Tons, Racking 1.25 Tons